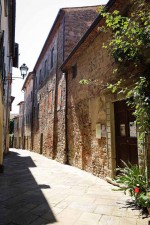 At numbers 13 and 14 of via Salomon Fiorentino is the building of the ancient Synagogue, the oldest parts of which refer to a restoration that was carried out in the years 1729-32 which was followed by various others in more recent times, especially in '800.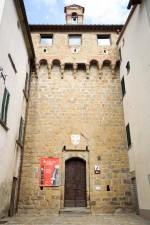 Il Cassero is the ancient fortress of Ajalta. Nowadays, from the square, we can see only its facade. It is a three story building with a rectangular perimeter, built on a square base, with sloped walls, a sturdy dungeon and four angular watch towers (some parts of these structures can be seen only from inside the Cassero). The merlon has been partially rebuilt.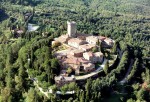 Located on the top of a hill near Palazzuolo, Gargonza is situated seven kilometers from the centre of Monte San Savino.
The old village of  Gargonza belonged to the Ubertini, but in 1285 was conquered by the people of Arezzo, allies of the Ghibellini , lead by the bishop Vescovo Guglielmino. In 1307 the army of Florence laid siege to its castle but it was fortunately saved.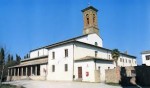 Two kilometers  away from Monte San Savino, we can  find the church of Le Vertighe (XVI century). Its current appearance is due to the restoration works wanted by the archpriest father R. Franci OFM.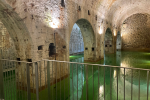 Those staying in Monte San Savino should definitely not miss a visit to the recently restored 16th century Cistern.
Thanks to the metal walkway that crosses it, it can be visited inside (free admission) every day.
Built both with mixed material, both stones and bricks, it consists of two naves each of mt. 26.00x5.00 covered with a barrel vault, connected to each other by four large openings with a rounded arch structure.
Outside, under the two niches, you can see the holes in the water dispensing spouts that have now disappeared.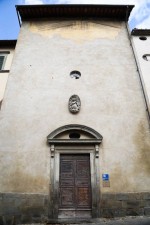 The first stone was laid in 1659 and only two years later the church was completed along with  the choir, the sacristy, the dormitory and other outside buildings.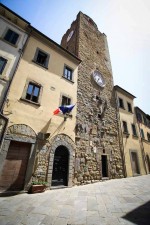 The fourteenth century Magistrate's Palace is the most ancient, noble, public building in Monte San Savino. It holds the tower of the town which is 30 meters high. We think the Perugini family  built it in 1339 when they began ruling Monte San Savino; in fact they put their coat of arms with the griffon on its facade (later it was removed). Formerly the Palace and its offices extended as far as the Piazza di Monte as it is called today. The Florentine podestà representatives and some deputies of the Lords of Monte San Savino administrated  the penal and civil justice from here with their "family" (XVI and XVII century).